Secret Santa 2013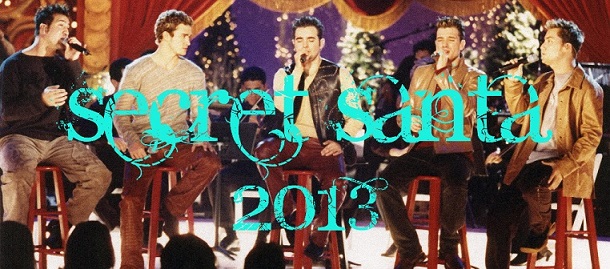 The time has finally come for the 5th Annual NF Secret Santa Story Exchange stories to be submitted!  Stories will be posted between now and December 31st.  Be sure to read and review and thanks to all the authors for participating. 
Happy Holidays!
Poptober News!
We're just about at the halfway mark of POP!Tober and we've had some great entries by awesome writers, some we haven't heard from in a bit, so YAY! 
We have half the month left and this train is speeding ahead... if you have a moment, take some time to read the challenge stories posted here at http://tinyurl.com/NFPopTober. 
If you're not following NSYNCFiction on twitter, do it now! @nsyncfiction. We have an awesome community of writers online. Help, a beta, or just some commiseration about writing is but 140 characters away!
Please ALSO take a moment to drop a line to the authors of the stories you read, even if you only read a chapter. Challenges are difficult since we demand a finished, polished product. We are fortunate in that we have a system that allows for almost instant feedback. MANY writers don't get that! Authors put a lot of work into their stories... a nice word of encouragement goes a long way.  
See you all back here for the next story in our exciting October Challenge! Happy POP!Tober to all!
-MissM 
POPTOBER!
PopTober starts tomorrow! HOORAY!
We're excited for a month of NEW stories to read and review. Please be sure to check here at NF daily for the new story to be posted... then read it... then PLEASE leave a review! Writers pour their heart and sould into a piece especially for the archive!
A couple of reminders:
1. If you're new to the archive, you must post your story as per normal, first. THEN go to the challenge, click on RESPOND TO THE CHALLENGE, and add your story. If it's not already up in your account, you won't be able to add it!
2. I STILL have about 9 open dates if anyone is interested in writing a shortie, longie, visual... as long as the main character is an *NSYNCer, it goes!
3. PLEASE make sure your piece is complete, edited, picture perfect on the day you've chosen to post. Please also post as early as possible so we have time to send people to read it. There is no use in dedicating a day to YOU if there is no story to point to.
Thanks, and let's get this party started! See you all October 1!  
Awards Winners Announced
The Season 7 *NSYNC Fiction Awards winners are now listed on the "Awards" page.  Congratulations to all the winners!  Be sure to check out all of these amazing stories.  Four of the winning stories are now the featured stories on the site!
POP!TOBER FICTION WRITING CHALLENGE
A lot of writers have expressed a desire to jump back into the fanfic world since the reappearance of our fave Fab Five. :)
So here's a little something to put some AH! in your step! 
POP!Tober is an *NSYNC Fiction writing challenge that runs from October 1-31.  It is short, COMPLETE, stories that POP! 
Signups are NOW through Sept 30th or until the challenge is full... word to the wise, new authors-- these challenges fill up FAST.   
Check out the challenge and the sign ups so far HERE: 
http://tinyurl.com/NFPoptober
And get ready for 31 days of NEW stories in October!  
AWARDS VOTING NOW OPEN
The nomination period is closed and the *NSYNC Fiction 2013 Awards VOTING is now open!  Voting will go through August 31st!  Winners will be announced in September.  All nominees are on the AWARDS page with links to the stories.
VOTING IS NOW CLOSED