Member Chat
I have created a member chat room. It is chatzy but I have put in a few dollars to make it a premium room so there can be unlimited users.  Here is the link if you are interested. You can feel free to use the room to bounce secret santa ideas off one another, however, keep in mind not to share who your secret santa is, just plot lines and such.  I will be hosting chats every Tuesday night starting at 8pm you can come in and ask me questions and give me feedback for the site.
When you go to the link, it will ask you for some basic information, such as your name. You can just use your handle here if you are not comfortable with that. Questions? Feel free to ask.
http://us19.chatzy.com/75627326836925
Thankful One Shots
As a small prequel to our Secret Santa challenge, I wanted to put this out there for anyone who might be debating submitting to the challenge, just to get their creative juices flowing. Since there was no Fall Into Fall challenge this year, and I know some of you haven't written in awhile, maybe you can give this a try.
Write a short story or one shot about one or all of the guys being thankful for something. You can use the idea of thankful in any way you see fit. You can respond the challenge under Challenges in the browse by  section. Remember, this doesn't have to be fancy or perfect, it just has to be fun!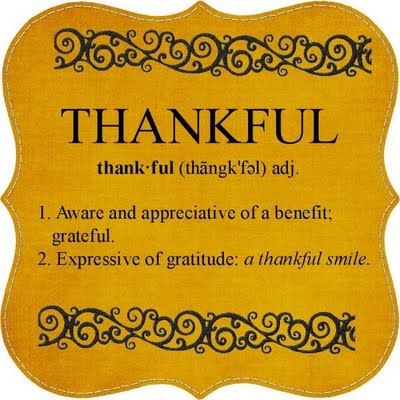 Admin News
Hello Authors and Readers!
I have spoken to Whitney tonight.  Unfortunately her job leaves her so swamped that she hasn't been able to be active on the site. She has asked me to become an admin in her absence. I just want to say how excited I am for this opportunity. I've been a part of this site for so long, and I'd like to breathe some new life into it if I can.
 Just a little bit about me.  I'm 31, and I love anything Justin related. My favorite type of fiction to write is Alternate Universe, but I've written many genres. The best story I've ever written was Business First. I love to sing and write, and I work retail. That about sums me up in a couple of sentences.
I'm open to any thoughts or suggestions anybody might have. I'd like to start challenges after Secret Santa, and get some new featured stories out, as well as an awards for next year.  I know there are a lot of you out there writing as well as lurking and I would love to hear from all of you! Message me anytime! Thanks and Stay Nsync!
Xo
Courtney
Secret Santa 2014
Happy Fall, NF Authors! Please view the following message from your Secret Santa Hostess, IAlwayzBeSingin: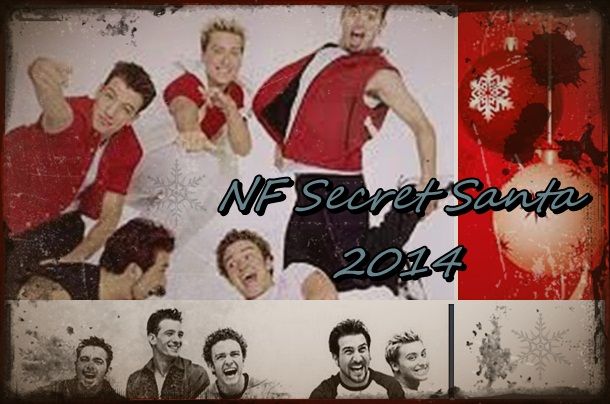 It's time for the 6th annual NF Secret Santa Story Exchange!   For this Exchange, you fill out a survey to express your preferences on how you'd like a story to be written for you.  In return, you also agree to write a story for someone else based on their preferences.   Stories must be complete in no fewer than 1,000 words, and it must be posted on time.  If there is an issue with anything, please email me at secretsantansync@gmail.com.  
Surveys must be complete by Sunday, November 9th. 
The due dates for the challenge will be December 20-December 31st.  Secret Santas are to remain anonymous until the story is posted!  They will be chosen at random and are divided according to preferences.  

Please add secretsantansync@gmail.com to your address book so you will be able to receive any emails about the challenge.  I will be accepting submissions now through November 9th, so everyone has a good amount of time to write their stories.
Here is the link to the survey:  NF Secret Santa 2014 Survey:  https://www.surveymonkey.com/s/ZPD7QM8
This cool banner was made by fellow author DiamondDoss! 
Secret Santa 2013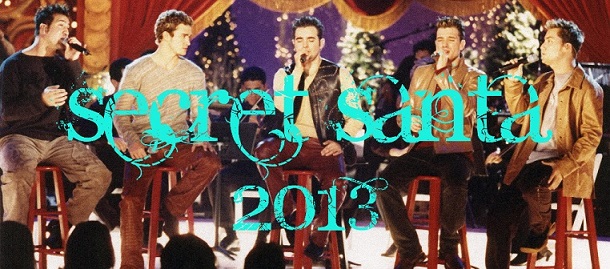 The time has finally come for the 5th Annual NF Secret Santa Story Exchange stories to be submitted!  Stories will be posted between now and December 31st.  Be sure to read and review and thanks to all the authors for participating. 
Happy Holidays!
Poptober News!
We're just about at the halfway mark of POP!Tober and we've had some great entries by awesome writers, some we haven't heard from in a bit, so YAY! 
We have half the month left and this train is speeding ahead... if you have a moment, take some time to read the challenge stories posted here at http://tinyurl.com/NFPopTober. 
If you're not following NSYNCFiction on twitter, do it now! @nsyncfiction. We have an awesome community of writers online. Help, a beta, or just some commiseration about writing is but 140 characters away!
Please ALSO take a moment to drop a line to the authors of the stories you read, even if you only read a chapter. Challenges are difficult since we demand a finished, polished product. We are fortunate in that we have a system that allows for almost instant feedback. MANY writers don't get that! Authors put a lot of work into their stories... a nice word of encouragement goes a long way.  
See you all back here for the next story in our exciting October Challenge! Happy POP!Tober to all!
-MissM