News
Hi guys,
We're aware that things have been kind of wonky around here lately--odd occurences with logging in and having access to other author accounts; even occasionally having access to the admin options. Please bear with us as we try to figure this out. Unfortunately, the original owners/admins of the archive were also knowledgable when it came to web/software development and database management The current admins...are not. So we're trying to figure things out as we go along. In the mean time, if you see anything that's weird please shoot us an email (or tweet us, or facebook us...) and if you find that you have access to something you shouldn't have access to, we trust you'll leave it alone. ;-) Also, we once again have access to main email account so you can either reach us nsyncfictionarchive@gmail or admins@nsync-fiction.com or archive@nsync-fiction.com. Thanks for sticking around with us. We want to keep this nostalgic little corner of the web up and running for as long as possible.   
Friendly Reminder
Hello Authors--new and seasoned!
It's a new year, and that usually means new stories from our well-recognized authors, as well as from authors new to our site.  We're glad to have all of you here!
A new year is a great time to take a few moments to review our Terms of Service and Submission Rules pages. They've been updated recently, so please take a look so that you may be familiar with our site-wide policies. As always, if you have any questions or concerns, please contact us. 
Happy New Year! 
Social Media Updates
Hi all,
As you may know, we try to keep our readers aware of site/story updates via Twitter, Facebook, and Tumblr. If you'd like us to let our followers know when you've updated a story, just let us know. Via Twitter, you can tweet a link to your updated story and as long as you @ us, we'll RT you. We'll also take that link and post it on Tumblr and Facebook. If you're not on Twitter but would like us to share your link on either Tumblr or Facebook, you can message us directly at either place. 
If you have any questions, let us know! 
August Story of the Month
Since we're running Awesome August this month, we've decided to forgo the Story of the Month. Instead we'll feature all of the stories added to the challenge. We'll post newly posted challenge entries under the 'Featured' section of the site. As more authors post, more stories will be listed and we'll be sure to alternate them. If you read a story, please be sure to leave the author some feedback. Even a simple 'great job!' will make an author's day. :D 
Awesome August IS HERE!
AWESOME AUGUST has begun and our first few days are ON and POPPIN'. Check out the challenge here (http://nsync-fiction.com/archive/modules/challenges/challenges.php?chalid=61) and get your READ& REVIEW on! 
We still have open slots, so if you're interested in filling one, please let us know! Email us at awesomeaugust@nsync-fiction.com or tag one of us on twitter (@nsyncfiction or @author_dlwhite) or via tumblr (tumblr.nsyncfiction.com) 
We heard you!
Hey friends!
So a short while ago we asked you to participate in having your voice heard by filling out a quick survey for us. First of all, thank YOU to everyone who answered, we were really surprised at how many responses we actually got. Second, it was great to be able to get a feel for what everyone likes and would like to see for our site.
We just wanted to let you all know that we heard you! You let us know that Secret Santa was your favorite overall Challenge and that you all for sure want the Fan Fiction Awards to return this year.
We heard that you would like to see the website updated a little, have it be more modern looking and you're right! We're going to work on seeing what we can do about that (and if you love our site, are gifted in web design and are willing to work for free...holla!).
Also, we got a really good suggestions about having some type of 'like button' available for people to click on in addition to being able to leave a review. We did it! You should now be able to click on Like/Dislike after you read a chapter (but don't forget authors like reviews too!) Hopefully everyone can play nice and we can get more feedback to our authors! Side note: We also have the option to do a star rating system from 1-5, let us know if you'd like that better.
We've heard that some of you used to post stories but got discouraged by the lack of response from readers, so we want to try and help that so that we can have people posting again! We also heard from that some of you have thought about posting stories but don't know how. The mechanics of it are quite simple (and instructions can be found on the site) but we will be updating our Beta list soon so that if you're looking for another pair of eyes to read your stuff before posting you'll be able to find contact info for them there.
We also heard that you want more Joey/Chris stories, so we're setting up a challenge and will get back to you about that soon!
As always we love to hear from you at any time and you can reach us on Tumblr, Twitter or Facebook.
Stay tuned,
LadyX
We Need Your Opinion!
Hi!
As we've recently noticed that our read counts and follows have blown up (woot!) but that participation in challenges and reader reviews have been dropping (boo!), we decided that it was time to check in with you all. We've created a poll for you to fill out (pleeeease!)so that you can let us know what you like, what you don't like and maybe what you'd like to see more!
Please take a minute (it's short!) to fill out the poll by accessing this link so that we can keep our site the best it can be!
http://goo.gl/forms/Hm79T1zglhHuvOJA2
Thanks! 
2016/Season 9 Award Winners
Here's a complete list of all of our award winners. Congratulations to you all! If you see your name on the list, please contact us (nsyncfictionarchive@gmail.com) so that we can email your banner. 
Remarkable Multi-parter: Bring It All To Me by elle-miranda
Astounding One-Shot: Revenge of the Nerd (Herd) by MissM
Extraordinary Alternate Universe: Double Occupancy by Alysen Blaine
Super Sexy Smut: Rendezvous by elle-miranda
Charming Challenge Response: Twenty Questions by LadyX
Intriguing Work in Progress: Double Occupancy by Alysen Blaine
Story Spotlight: One Night by elle-miranda
Most Anticipated Update: One Night by elle-miranda
Impressive Characterization of Justin: Our Story by Sox
Impressive Characterization of Chris: The Safest Place by creativechaos and DiamondDoss
Impressive Characterization of Joey: Joke's on You by Majesstic11
Impressive Characterization of Lance: Ace of Spades by AceofSpades
Impressive Characterization of JC: One Night by elle-miranda
Innovative Original Character: Casey Whitaker (Bring It All To Me by elle-miranda)
Favorite Couple: Casey & JC (Bring It All To Me by elle-miranda)
Favorite Villain: tie Hannah (Standing In Front of You by ialwayzbesingin) & Tony (Bring It All To Me by elle-miranda)
Best Kiss: JC & Kyra ('Remembering' - The Story of My Life: Rewritten by LadyX)
Best Quote: "Oreos, Joey! Oreos!" She shook her head then threw her hands up into the air. "If you're going to hide some food at least let it be Chips Ahoy!" (Joke's On You by Majesstic11)
Best Fight: JC & Kyra (when he says he has a girlfriend - The Story of My Life: Rewritten by LadyX)
Most OMG-WTF Moment: When JC & Delaney had sex the first time (Double Occupancy by Alysen Blaine)
Best Break-Up: Abby & JC (You Don't Have To Be Alone by TrueKat)
Ultimate Ending: No Use Crying Over Spilled...Coffee by LadyX
Phenomenal Fanfiction Overall: A Thin Line by MissM
Ultimate Author: elle-miranda
Supreme Newbie: Majesstic11
Best Reviewer: theusagirl
Lifetime Achievement Award: Mack_Attack22
Legacy Award: Heartbreaker by Hollie 
Mod's Choice: KrisB for the Pinch Hitter Award 
Voting Updates!
Hello Authors and Readers,
We are so excited at the already HUGE response to the Season 9 Awards voting. That said, something has been brought to the attention of the admins that needs to be addressed. There are several stories nominated in various categories that haven't been posted or updated within the past year. The purpose of the Awards every year is to celebrate the awesome stories posted specifically within the past year, and to bring attention to the authors who are currently active on the Archive. With that in mind, we have made the decision remove older stories out of the regular categories, and place them into a special category. If a story was not posted or has not been updated between February 2015 and the present, it is not eligible for a regular Season 9 Award.
However, for those stories that are older and already being voted on, we're moving them into a special category called the Legacy Award. The award will be given to the story with the most votes that either was posted more than a year ago, and/or hasn't been updated in the past year.  
We're sorry for the late notice. If you have any questions or comments, please let us know! 
Well hello there!
Fancy seeing you all here! :)
I've been told that I need to introduce myself so here goes: My pen name is LadyX and I am a fan fiction junkie! If you look at my profile you'll see that I've been reading fic for many years but have just recently tried my hand at writing all the crazy stuff that pops into my head. JC is favorite muse and I try to talk him into things all the time.
I'm super excited to have been asked to join the admin team (and thank you to my beta and friend elle-miranda for the intro) and hope to be able to contribute many new ideas as time goes by. 
 Let's get started! 
welcome LadyX to the admin team!
she's going to introduce herself properly, shortly, but we want to welcome LadyX to the admin family! in addition to being an amazing writer (and my friend and beta!), LadyX is always full of wonderful ideas to breathe new life into our little site here. we're so glad to have her!
Secret Santa Holiday Bash 2015
It's that time of year again, folks! We're sorry for the delay in posting, but we're back to announce the 7th annual Secret Santa Story Exchange!
For this Exchange, you'll fill out a survey (see link below!) to express your preferences for your Secret Santa. In return, you'll agree to write a story for someone else based on their preference.   
Stories must be no fewer than 1,000 words, and it must be posted on time. If you have any questions or concerns, please email the admin team at nsyncfiction@gmail.com.
Surveys must be completed by Friday, December 11, 2015. 
Because of the late posting of this challenge, we're changing things up just a little bit. In addition to Christmas, authors can incorporate New Years themes into their stories as well.
Stories can be posted as early as Thursday, December 24, 2015 and MUST be posted no later than Sunday, January 10, 2016. 
Secret Santas are to remain anonymous until the story is posted. Secret Santas and recipients will be chosen at random.
Here is the link to the Secret Santa Survey: https://www.surveymonkey.com/r/LDTVJGL
Thank you all! Happy holidays, and happy writing!   
After a brief delay...
We are back online! Nothing was lost or compromised so don't worry! Thank you everyone for being patient and thank you to Whitney for helping us so quickly even though you've been out of the game for a bit!!
The Nsync Harvest Ball Challenge!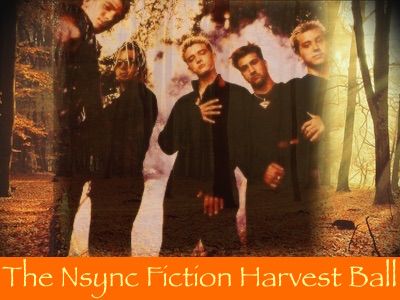 This year, instead of doing Poptober! We thought we would change things up a bit. Our Valensync Challenge did very well this year, so we thought we might do something similar for the fall to gear up for the very popular Secret Santa Challenge in December! Many of you are new, and that's okay! We encourage all writers new, or established, to participate in our challenges! This is also a great way to get to know other fellow authors in our community! We hope many of you will participate in our NSYNC Harvest Ball! This is a fall inspired challenge, with keywords chosen by you that your "Ball Date" will include in their story to you! In exchange, you will write a story for your date with the same guidelines.  We will try to pair people up as best as possible regarding the guys and subject matter.
Please take the survey here in order to take part in the challenge: 

https://www.surveymonkey.com/r/WK23DHS

Guidelines:

-Submissions for the challenge will take place Monday 8/31/15 to Monday 9/7/15

-Stories should be no less than 500 words, and must include the three key words your Ball Date has chosen

-Stories can start being posted October 25 through October 31. Please remember if you sign on for a story you must contact us ASAP if you cannot write your story so other arrangements can be made.
Questions? Email us nsyncfictionarchive@gmail.com OR Tweet to @Nsyncfiction
Reviews, comments, and things of that nature.
The most important part of the Archive is the community. We want each person who comes here to feel that it's a safe and encouraging place to explore creativity through writing. So let's take a moment to talk about leaving comments and reviews.
While most authors appreciate constructive criticism, I feel it's necessary for me to explain what exactly that is. Constructive criticism exists in the realm of actual, concrete, factual help to make a story better. For instance, telling someone that they switched verb tenses would be constructive. Telling someone you didn't like something stylistic, or related to tone of voice, point of view, or even about characters, is NOT constructive. Those sorts of things are opinions. Moreover, it's often flat out rude and often breaks down the goal we have of creating community.
Please keep in mind that we're all reading and writing FREE fanfiction. While I like to think that each of us is putting our creative best foot forward, none of us are attempting to create high brow works of literary genius. If you're enjoying a story, PLEASE tell the author exactly that. We LOVE hearing that. But if you're not enjoying a story, unless it's something that can (and needs to) be fixed--spelling errors, formatting issues, etc.--please keep that to yourself and keep it moving. Choose another story!
If you're interested in going deeper into the analysis of a story and its characters, consider letting us know that you're available for beta reading. And if you're thinking of leaving a review and you're not sure if it's constructive or not, please reach out to any of the admins. 
Let's all live by Thumper's wise words: "If you can't say somethin' nice, don't say nothin' at all."
xoxo